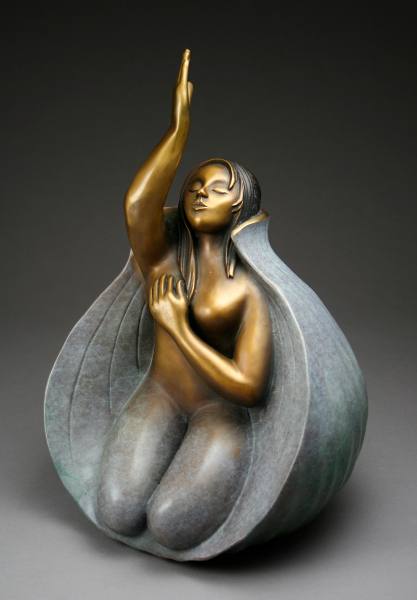 Onion Girl by Ann Fleming
Visit here to learn more about this artist and inspiring human being.
Dance, when you're broken open.
Dance, if you've torn the bandage off.
Dance in the middle of the fighting.
Dance in your blood.
Dance, when you're perfectly free.
Struck, the dancers hear a tambourine inside them,
as a wave turns to foam on its very top, begin.
Maybe you don't hear that tambourine,
or the tree leaves clapping time.
Close the ears on your head
that listen mostly to lies and cynical jokes.
There are other things to hear and see:
dance-music and a brilliant city
inside the Soul.
Stretch your arms and take hold of the cloth of your clothes
with both hands. The cure for pain is in the pain.
Good and bad are mixed. If you don't have both,
you don't belong with us.
Rumi
Dear Ones,
"Be attentive to it" my husband said to me in bed as I described through tears and fear, a sadness that came in waves, as if a huge barrel had tipped and washed over me—collected from the many people who have more sadness than they can carry. That morning I had read a news story of another violent assault on a woman and her partner on a bus in Brazil. It filled me with a persistent dense ache that would not ease.
My husband didn't try to talk me out of it or cheer me up. He just held his normally happy, joy-filled wife while she worked to push words through her tight throat. I soon stopped trying to find words and lay quietly. "Be attentive" gave me something to do other than get anxious that I was "losing it."
"Yes, be attentive to it," I repeated out loud as I felt compassionate curiosity rise up and soften me. Listening now instead of trying to make the sadness and growing sense of hopelessness go away, I smiled and slept.
The feeling was there when I woke the next day and was noticeable through my smile as I greeted co-workers. "Are you ok?" a good friend asked. "Yes," I explained with wet eyes, "I am just carrying something heavy and sad and I am not sure why." At lunch I went to the staff room, happy to see my good friend sitting there. I felt myself become intently present and focussed on her. I asked, "How are you?" She began to talk. Her talking about every day things morphed into words about a sexual assault in her past and the raw shame that clung to her insides. This story, that she had never told before, met the sadness I carried and filled the room. We both cried. I felt an upswell of love for her and Love for all victims. The sadness felt sweet, as sadness can when shared with others. As I left the room, the heaviness and sadness lifted.
What do I believe? That we are more deeply, intimately connected than we think. Not just to those living around us, but to those who came before us whose DNA we share. I say: Be attentive to this. Expect to learn a different language.
Meanwhile, I teach my students. I swim laps. I ride my bike. I love my friends and family. I grumble about new aches and pains. But things are expanding anyway and I feel expectant. What I hear, sense, and feel is shifting and as I listen I hear more and more messages that seem to be coming from some back window of my mind I forgot to close. They need to be carried and shared.

At first this felt unsettling. Who opened that window anyway? But now the messages makes me feel deeply connected to a power that asks us to lean into the web of our interconnection—not just from human to human, but between everything. The asking is becoming more persistent. Listen for it.  Rumi says it best:
People are going back and forth across the doorsill
where the two worlds touch.
The door is round and open.
Don't go back to sleep.
Blessings and love to you,





Annie O'Shaughnessy
---
Soul Flare Circle Leadership Training
Central to Soul Flare's mission is to support people in starting their own Soul Flare Circle, a safe and sacred container for the act of speaking our truth, creating ritual for life's transitions, setting intentions and receiving healing. To this end, we will offer a series of online webinar experiences to introduce people to the ancient and transformational practice of meeting in circle.

You do not need to have any experience to lead these circles. Remember that we have been gathering in circles since there was fire. We have only recently forgotten how.

We plan to begin with a series of Google Hang Out conversations. If you would like to take part in this opportunity get yourself a gmail account and email me.  (We are using Google Hang Out because it is the best, free option for an online discussion experience.)

Email me with your gmail address or write with questions at annie(at)soulflares.org

Visit here to download a concise description of Soul Flare Circle guidelines.
---
Why donate to such a small nonprofit?

Soul Flares
is a 501(3)c nonprofit. It is a
very small
nonprofit—5,000 members in all. It is part of the wave of small organizations in our world that work to tilt the scales towards change. The people we reach our inspired and supported by what
Soul Flares
offers and spread that light in every part of their lives, causing a ripple effect.
We don't often hear about the small good works being done, but they are as important as the big, well funded work. If you don't feel compelled to donate to
Soul Flares
today, consider donating to another small nonprofit that does move you. Just $20 will make a real difference to them or to us.
Visit here
to make your donation.
Visit here
if you have not yet read the essay by Dr. Clarissa Pinkola Estes that inspired the name and intent of our organization.  
---
New Content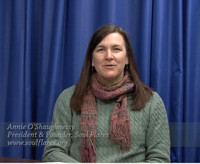 Loving through the Layers: 
I have posted a new essay on my blog that I've been holding onto for months. But Ann Fleming's beautiful sculpture above, "Onion Girl", has inspired me to finally publish it. It is time.
Visit here
to read how love has helped peel back the layers that have obscured my Essence. 
Soul Flares Public Service Announcement:
Our public access television station offered local nonprofits the opportunity to create a short PSA to promote their work. So, I took them up on their offer and showed up at the station ready to talk about
Soul Flares.
It is a very rough and
simple video in this age of high tech productions, but it seems to fit Soul Flares.
 If you'd like to hear what I have to say
visit here.
---
Worth Sharing
Reader Beth Abernathy recommends Stephen and Ondrea Levine: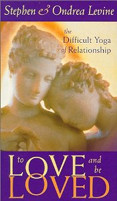 To Love and be Loved: The Difficult Yoga of Relationships, by Stephen and Ondrea Levine. In this 5 tape exploration of treating relationship as the primary spiritual path, the Levines are a profound healing force for the absolute and unconditional way in which they walk their talk. They have spent decades working with the sick and the dying, and from doing so have discovered that the most difficult, and thus most potentially healing aspect of our lives comes through how we relate to ourselves and thus to others. In their perspective based on their deep experience--not belief or dogma--everything comes down to absolute compassion, mercy, kindness, non-judgment. They offer plenty of stories, both personal and mythic, and share many kinds of tools, like directed meditations, to convey their message of how to live in the world from a place of freedom and open-heartedness. 
Please post your own recommendations for Inspiring Words, Art, or Spiritual and Healing work visit here.
---
Traveling to the Northwest this Summer
My husband and I will be cycling in Oregon this summer from July 16 to August 6th. If you would like some visitors please contact me at
. I would love to meet you and we would appreciate the bed or tent space! I am especially interested in providing guidance to anyone thinking about starting their own sacred circle. 
Please leave your comments
Posted by
Abrianhah
on
Jan 14th, 2017
песня нам песня строить и жить помогает майнкрафт 0.10.5 на андроид программу для печати текста на андроид рабочую тетрадь по информатике 6 класс босова кризис 3 онлайн грать хелен анделин очарование женственности epub construction simulator 2015 pc русская версия windows 8 wolfenstein old blood любовь похожа на тебя 2015 на русском аниматинг тач полная версия на андроид заставка к передачи в гостях у сказки классическую сборку сервера minecraft 1.7.2 виндовс 7 для слабых компьютеров песню с днем рождения тебя поздравляю я любя музыку вахида аюбова уйду туда где небеса http://xenla.ru/z6ofbh701/?p=385 http://xenla.ru/djy4s8/?p=534 http://xenla.ru/biq5em/?p=203 http://xenla.ru/fmkx8p5/?p=54 http://xenla.ru/7pax1l/?p=747 http://xenla.ru/pbf6p/?p=788 http://xenla.ru/3t34x1dj/?p=340 http://xenla.ru/g03u6jqj/?p=416 http://xenla.ru/we9xk19s/?p=457 http://xenla.ru/j2137/?p=593 http://xenla.ru/mndjo/?p=736 http://xenla.ru/0iz2ove/?p=108 http://xenla.ru/nqbzq9/?p=807 http://xenla.ru/3augfo1/?p=767 http://xenla.ru/z2ghb/?p=638
Posted by
RobSlora
on
Feb 9th, 2017
Prices Cialis Buy Cialis Online Cheap I Need Viagra Overnight Delivery Canada Kamagra Oral Jelly Boots Propecia Side Effects Sperm Impotence Cialis Viagra Habitamos Cialis Generique Forum Cialis Determining Correct Amoxicillin Dosage Zithromax Overnight Delivery No Prescription kamagra quick Purchase Synthroid 88 Mcg Zithromax Wound Infection Direct Doryx C.O.D. Next Day Without Dr Approval cialis price Kamagra Shop Berlin Propecia Era Bueno Risistance To Amoxicillin Viagra Precio En Farmacia Vibramycin Online Sales Buying Seroxat On Line Metronidazole 500mg Tablets Amazon Buy Generic Tadalafil Online Cheap Levitra Ligne Buy Metformin Online Propecia Economica Low Price Zithromax Cialis 20 Moins Cher buy accutane paypal Amoxicillin One Day Over Expire Date Priligy Mercadolibre Venezuela Nolvadex Tabs Zithromax Route Administration Propecia Results How Long Before Marchio Propecia Levitra Prescription Online Buy Online Kamagra Priligy Acquistare Online
Posted by
Instrmen
on
Apr 22nd, 2017
Отрезные круги
Шлифовальные ленты
Буры
Цепи пильные
Патроны для дрелей
Бурильные коронки
Скобы для степлера
Сверла
Шлифовальные шкурки
Принадлежности к станкам
Пильные полотна
Пики для отбойного молотка
Отверточные насадки
Пилки для лобзика
Posted by
Insstmen
on
Apr 27th, 2017
Интернет магазин инструмента для ремонтных работ и материалов необходимых для этого инструмента Stoyin.ru - наивысшее качество по дешевым ценам. В наличии отрезные круги, буры, патроны для дрелей, скобы для степлера, шлифовальные шкурки, пики для отбойного молотка, пилки для лобзика, диски, а также многое другое. Дешевая, а при крупных заказах бесплатная доставка или самовывоз с точек выдачи товара (уточняйте у оператора) офисы в России, Украине, Беларуси, Казахстана. У нас только надежный инструмент с гарантией, ждем от Вас звонков.
http://moskva.catalog2b.ru/companies/s215906-stroyin.html - Магазин инструмента для ремонтных работ
Posted by
iven
on
Jun 6th, 2017
buy cheap Filemaker 15,buy cheap QuarkXPress 2017,buy Nuance Dragon 15,buy Minitab 17,
http://www.ddgoshop.com/
buy cheap office 2016 pro
Leave a Reply