So you mustn't be frightened, dear Mr. Kappus, if a sadness rises in front of you, larger than any you have ever seen; if an anxiety, like light and cloud-shadows, moves over your hands and over everything you do. You must realize that something is happening to you, that life has not forgotten you, that it holds you in its hand and will not let you fall. Why do you want to shut out of your life any uneasiness, any misery, any depression, since after all you don't know what work these conditions are doing inside you?  — Rainer Maria Rilke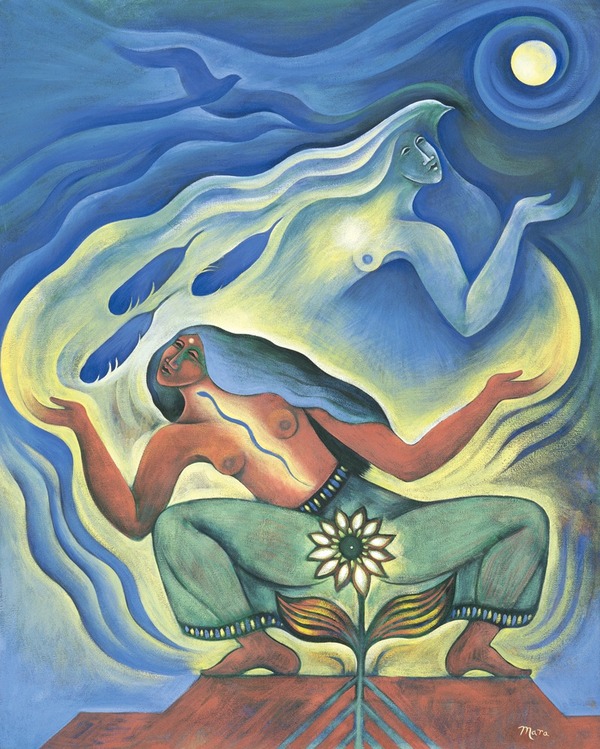 Luna Moon Rising by Mara Friedman
Visit here to learn more about this artist and inspiring human being.
Dear Ones,
A few weeks ago, I was standing in the doorway of my supervisor's office after a staff meeting. He was packing up his computer and banjo and I just stood still and quiet, watching him with rising feelings of tenderness, knowing that he would be packing up for good, soon, and moving on to a new opportunity. He looked up and smiled, and I continued to watch him as a mom might watch her kid pack up for college or as a middle-schooler watches her best friend pack up for summer camp. I let myself feel sad and let my eyes well up right in front of him. He gave me a big hug.
When I took the job four years ago I expected that I would love it. I did not expect to have a supervisor like Jed. He challenged me, invited and then fielded my raw honesty and held me to a standard in my work and as a human being that no supervisor has done. At the same time he shared his humanness and persistant questions. I am a better person for my time with him.
Change is shaking things. Jed is moving on as are three of the colleagues I am closest to. In addition, the entire school structure is being reorganized. My usual response to change seems to be "broken" and this is a good thing.
In the past, using the well-practiced strategies to manage my fears, I would immediately jump to the place of "What's next?"—as in, "If I fill my head with thoughts and excitement of what is next, I don't have to feel what I am feeling." My next step would be to surge out to the front of the change, join committees, seek the promotion, just so I can have some control over how the change looks. Finally, I would rely on the tried and true,  "Out with the old and in with the new" mentality—piggy-backing on the cultural norm of it's new so it has to be better. While none of these strategies are "bad" and can be quite useful,  I have come to see how they no longer serve me.
Feeling what I am feeling, which is sad, unsettled and fearful, allows me to inhabit myself consciously and to make choices from a grounded authentic place. What does this mean? It means, when I stay on the level of ego, doing what I do to avoid feeling vulnerable, I move away from richness, from healing, from wholeness, from my true, inviolable nature.
So for a week or more, I cried at the silliest things. I went on really long bike rides alone. I asked for more hugs. I was a bit prickly and uncomfortable because I don't feel very loveable when I am sad and I felt disoriented without the "easy" way I use to glide through change. But I know at least two thing to be true:
Old hurts and undigested grief rise up again and again for the chance to be properly attended to. The sadness over a beloved supervisor leaving is probably not just the sadness of his leaving; it is other buried experiences of feeling left or lost without someone to lean on.
When we've felt all emotions properly with compassionate curiosity, they dissolve, and like a dam that's been breached, our hearts are broken open to feel much more of everything. When we allow ourselves to feel sadness and fear more fully, we expand ourselves to feel more love and joy.
Blessings and love to you,





Annie O'Shaughnessy

Time passes and change happens, always surprising me with its audacity.

Forward this message to a friend

 
---
Visit here
to sign up for
Letter from an Open Heart
or view some recent issues
---
Why donate to such a small nonprofit?
Soul Flares is a 501(3)c nonprofit. It is a very small nonprofit—5,000 members in all. It is part of the wave of small organizations in our world that work to tilt the scales towards change. The people we reach our inspired and supported by what Soul Flares offers and spread that light in every part of their lives, causing a ripple effect.
We don't often hear about the small good works being done, but they are as important as the big, well funded work. If you don't feel compelled to donate to Soul Flares today, consider donating to another small nonprofit that does move you. Just $20 will make a real difference to them or to us.
Visit here
to make your donation.
Visit here
if you have not yet read the essay by Dr. Clarissa Pinkola Estes that inspired the name and intent of our organization.  
---

Worth Sharing
Grief and Praise - The Work of Martin Prechtel: Martin Prechtel is worth getting to know. He is a wise and wild man, speaking powerful and beautiful words that are often just on the edge of our grasp. This talk is a very important view on grief and her essential brother praise.
Visit here
to listen to an excerpt from his poweful talk on "Grief and Praise."
Visit here
for an interview of him featured in the "Sun Magazine." 
---
I have been a fan of Mara Friedman's work ever since a dear friend gave me a card with "Open Heart" on it. I bought a print of that image and kept it on my altar for years, bringing it to workshops to remind me what I came here to be in this world. This is her description of Luna Moon Rising:
A very early and pivotal work for me. As I unfolded this painting of power, sexuality and spirit, I faced many of my own fears. Both Native American and African energies influence this image. She is a warrior, standing high atop a temple-mountain. She is rooted deep into the earth below... and at the same time, she is united with the sky above. She is balancing both her male and female polarities.
---
My husband and I have started a blog to chronicle our adventures. (Visit here) If you have been a reader for a while you have witnessed a great deal of my inner life. This blog is about my outer life, my day to day life. It's a way to celebrate my gratitude for the joy I have discovered midlife, in particular with my husband Todd and to have a journal to look back on as we age.

We will be cycling in Oregon this summer from July 16 to August 6th and will be writing about that. If you would like some visitors please contact me at annieovt(at)gmail.com. I would love to meet you and we would appreciate the bed or tent space! I am especially interested in providing guidance to anyone thinking about starting their own sacred circle.